Diakron is a platform and studio for transdisciplinary research and practice. We are located in Amager, Copenhagen. We establish collaborations across disciplinary backgrounds and institutional frameworks. Our own backgrounds are composed of experiences from artistic practices, curatorial practices, social sciences and graphic design.
Diakron is based on explorative research as a core value. This means, that we adapt what our practices do and what the organization is, according to the research projects we undertake.
We are currently interested in creative and explorative ways of identifying and dealing with changes, that invisibly permeate or unavoidably overwhelm ways of life. This work is tied to concerned interests in various pervasive ecological, humanitarian, existential, digital, or economic shifts. We approach these issues through experimentation with our own ways of working and the relationships we maintain through our practices.
Our modes of engagement, processes of making and research methodologies grow out of our projects and collaborations. We combine our transdisciplinary outset with an open-ended and relational approach to methodological experimentation. Outputs and expressions are not predetermined, but are developed in a responsive manner according to each research process.
Members
Amitai Romm
Artist. MFA, The Royal Danish Academy of Fine Arts, Schools of Visual Art. Akademie der bildenden Künste Wien, Vienna
Asger Behncke Jacobsen
Graphic designer. BFA, Gerrit Rietveld Academie
Aslak Aamot Kjærulff
Researcher. Ph.D. at the doctorate school Space, Place and Technology at Roskilde University
Bjarke Hvass Kure
Artist. MFA, The Royal Danish Academy of Fine Arts, Schools of Visual Art
David Hilmer Rex
Artist. MFA, The Royal Danish Academy of Fine Arts, Schools of Visual Art
Morgan Sutherland
Consultant. BFA, Concordia University, Department of Design and Computation Arts
Thomas Ulrik Madsen
Consultant. MA, Critical Writing and Curatorial Practice, University of The Arts, London
Collaborators
Danish Building Research Institute
Aalborg University Copenhagen
Danish Ministry of Housing, Urban and Rural Affairs
Urgent.Agency
12byer
Trampoline House
Solobeta
Givrum.nu
Support
The Danish Arts Foundation (Issues)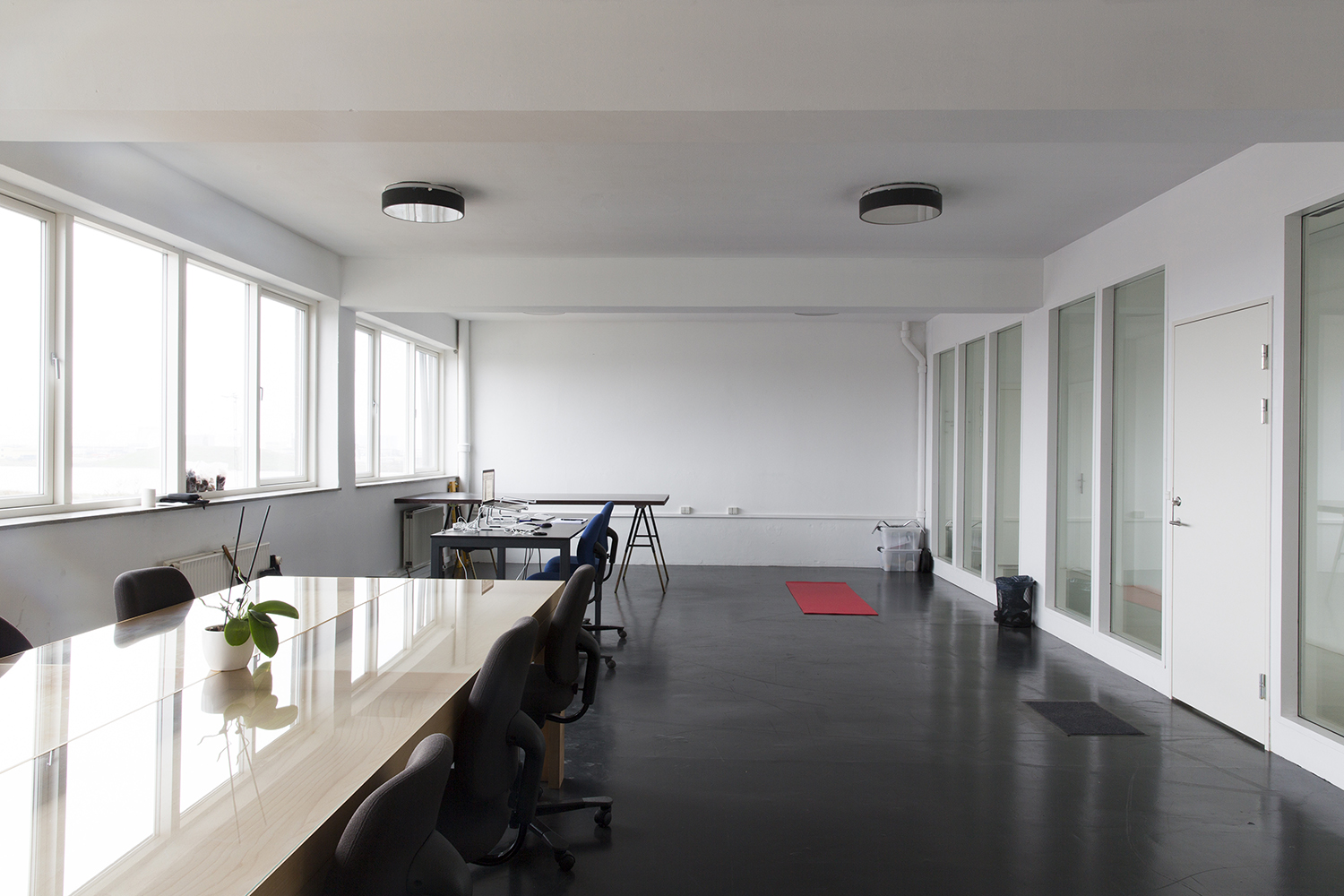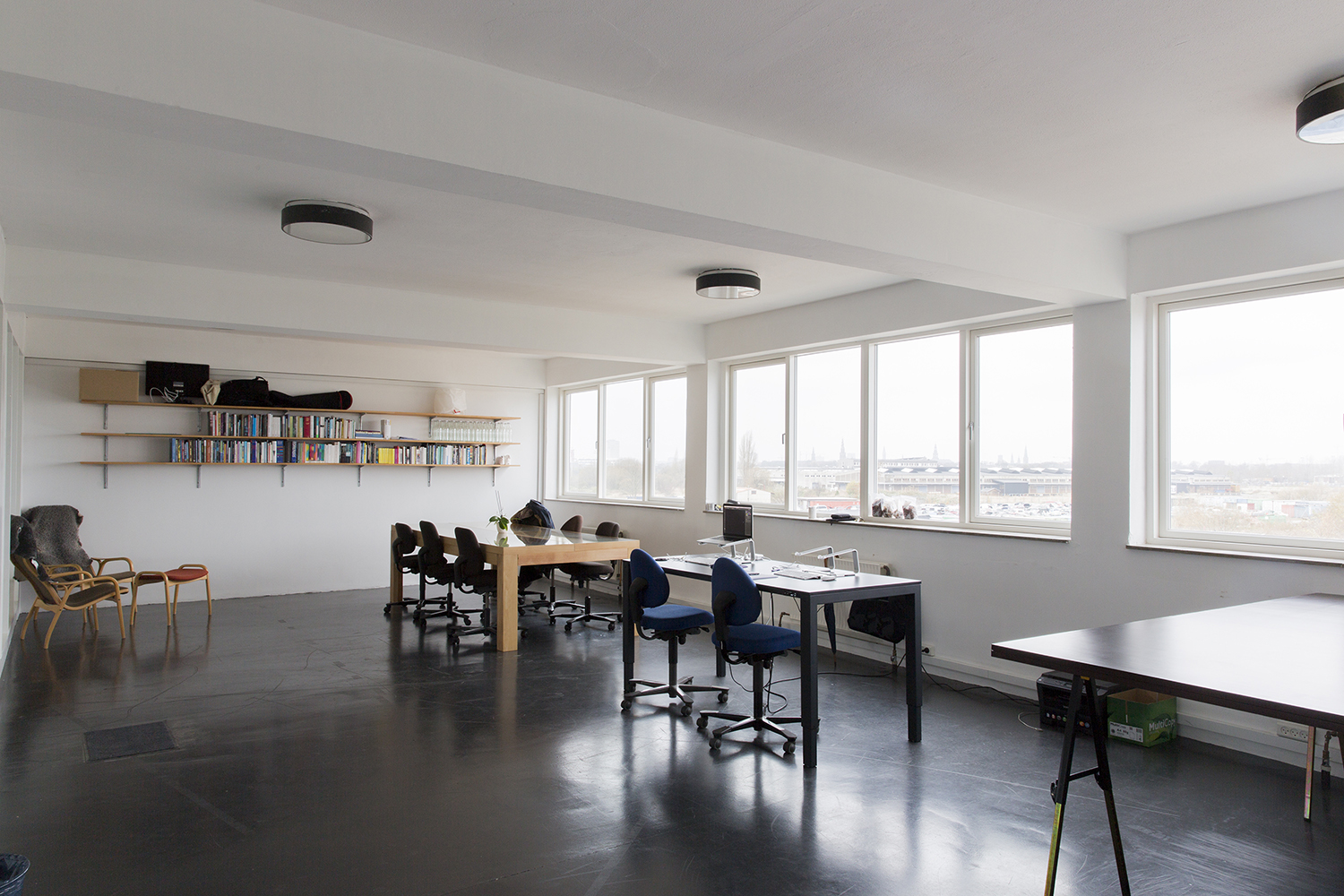 Diakron Space
Our office functions as a co-working space, gathering a community of practitioners. We have a 60sqm open space, with a view towards the center of Copenhagen. We have a small library, a lounge area, two flexible tables that can be rearranged as suited and a big table with two glass vitrines. There is a meeting room, eating area, a small kitchen and entrance to the roof of the building. The space is suitable for hosting small-scale events of up to 20 people.
Members
Diakron: Aslak Aamot Kjærulff, David Hilmer Rex, Amitai Romm, Asger Behncke Jacobsen, Bjarke Hvass Kure
Johanne Aarup Hansen
Jonas Olesen
Address
Prøvestensbroen 3, 2nd floor
2300 Copenhagen S
Contact
David Hilmer Rex
email@diakron.dk
+45 30271851
Office hours
Monday to Friday, 10am–4pm